The cost of selling on Amazon FBA in 2021
We put together this guide on Amazon FBA fees in 2021 both for new and old sellers for reference.
Monthly FBA Fees
Monthly subscription for Professional selling plan – $39.99
Monthly Inventory Storage Fee
Amazon charges a monthly inventory storage fee to cover the cost of storing your item in their fulfillment center. These fees are based on the daily average volume of space your inventory occupies.

Sale-related fees
Referral Fees
These fees are the cost of selling your product on Amazon using Seller Central. Generally, your referral fee will be 15% of the sales price. Some categories have higher referral fees (like Jewelry).
Detailed information about referral fees for each category can be found here.
Fulfillment Fees
Fulfillment fees are the cost Amazon charges to pick, pack, and ship your products. These fees are calculated based on the size and weight of a fully-packaged item.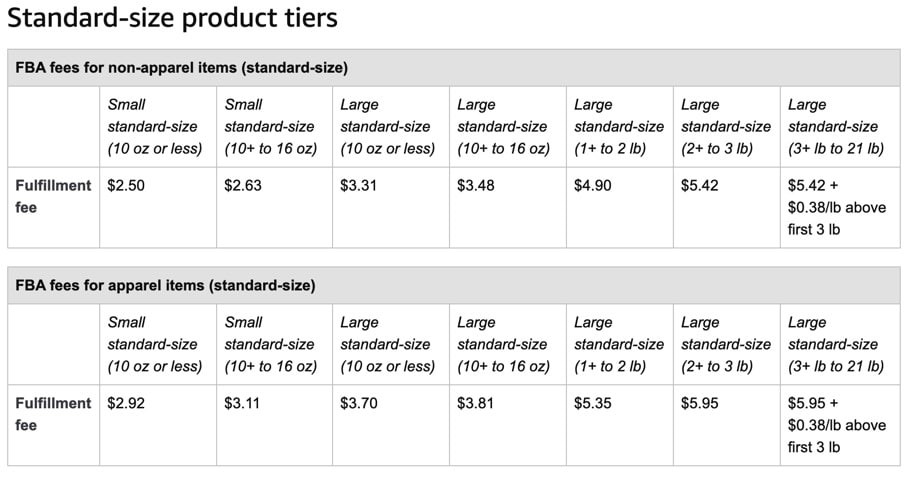 Anything larger than the standard sizes above is considered over-sized and is categorized with the four sizes (small, medium, large, special).

For detailed information on over-sized fees, check out the Seller Central help guide.
Other FBA Fees
These fees can be minimized or avoided entirely.
Long-Term Storage Fees
You'll pay an additional $6.90 per cubic foot for items that are in a fulfillment center for 180 days or longer. The inventory cleanup date is the 15th of every month. For products that have been in Amazon's warehouses for longer than 365 days, you'll incur a charge of $0.15 per unit.
Removal Fees
If your inventory still isn't moving, you can have it shipped back to you. It will cost between $0.25 and $2.10 per item depending on its size.
Sources: LaserSightDigital.com, Sellbite.com