TOP 5 Amazon trends and predictions for 2021 and beyond
How to attract customers' attention in the digitally-driven world? Let's sort through some of the most important eCommerce trends to get ahead of the competition on Amazon
Digital shoppers in the United States are clicking and tapping their way to more than $374 billion in online sales in 2020, with no signs of turning back. By 2024, ecommerce sales of physical goods are expected to top $476 billion.
While this growth is great news for ecommerce stores, it also means businesses must work harder than ever to set themselves apart in a crowded digital environment.
How to attract customers attention in this digitally-driven world? Let's sort through some of the most important ecommerce trends to get ahead of the competition.
Product research is set to take a giant leap
With the growing competition it will become increasingly difficult to find the right product. Therefore, many sellers will be looking for expert advice to handle their product research.
But one thing is certain: electronics will continue to dominate on Amazon. In 2019, around 44% of the US shoppers purchased electronics from Amazon making it the most popular category on the platform. Smart home appliances, voice assistants, computers, mobiles, and gaming devices are popular categories among electronic devices.
Health and wellness industry is progressing significantly in the US. Moving forward, health supplements and wellness products are going to be more popular on Amazon. Also, we are sure that plenty of private label products will be booming in this category.
Amazon will tighten its grip on Buyer-Seller messaging service
Since late 2016, Amazon has made major moves to prevent sellers from manipulating its system, especially in regards to product reviews.
By limiting the number of messages that sellers can send and prohibiting certain communication practices, it would appear that Amazon isn't done. This may even eventually lead to Amazon completely disbanding the seller messaging system altogether.
Customer reviews will be key
Reputation is everything when you operate online, and customer reviews are a huge part of this. Surveys show that 91% of people aged 18-34 trust the reviews of other customers, ranking them as highly as personal recommendations from a friend.
Private messaging and Chat-Bots will boom
One of the ways to keep customers satisfied is through private messaging and chat-bots. Facebook messenger chatbot is the effective way to engage with customers and collect reviews on Amazon.
Facebook Messenger has seen a colossal increase in engagement over the last few years, and now more businesses are offering WhatsApp as a way for customers to get in touch. The experience feels more personal and allows businesses to connect with customers more easily – it's a win-win all round.
eCommerce and Social Media Will Merge
We've seen an increase in social commerce over the last few years. For example, 37% of U.S. internet users between the ages of 18 and 34 have made a purchase using social media.
This trend is likely to grow in popularity as social media platforms provide businesses with the ability to sell through their app. Facebook and Instagram recently introduced in-app shops that companies can stock, allowing customers to complete a transaction without leaving the app.
The future of eCommerce is on social media – watch this space.
Sources: wordstream.com, sellerapp.com, cminds.com
More tips and advices for Amazon sellers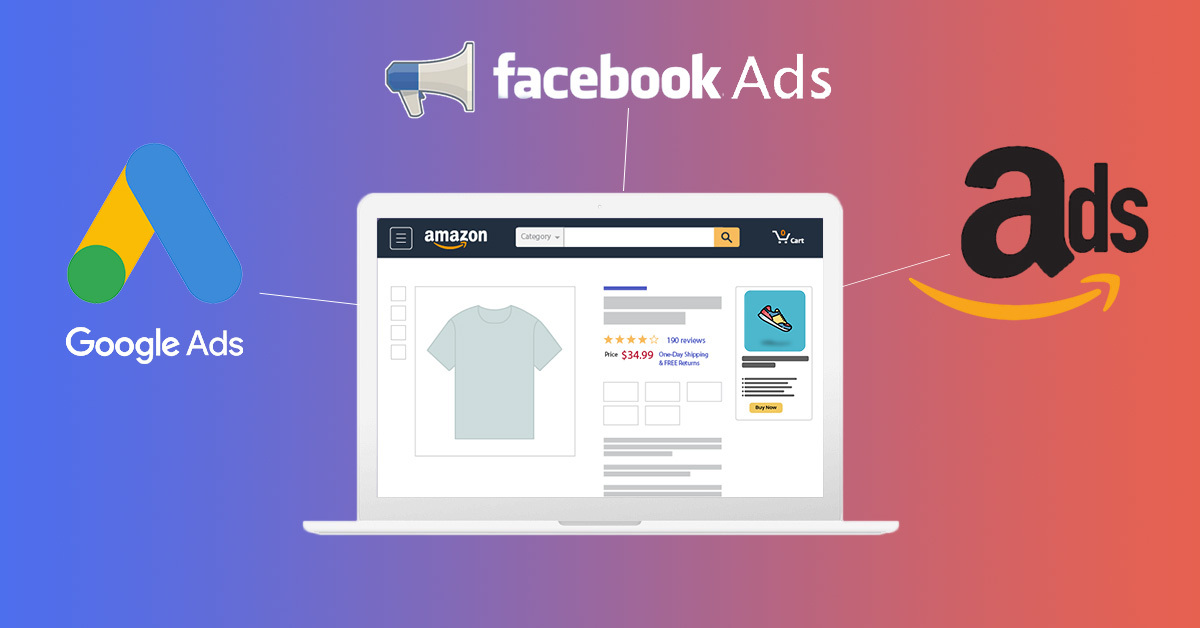 How to grow your Amazon sales with external traffic As the competition on Amazon and sponsored ad costs continue to increase, it makes sense to look for ways to drive external traffic to your listings. Outside Amazon, external traffic sources can help you build a...
read more